At 15Hatfields, we are committed to providing first-class event catering. By sourcing local, organic and fairtrade food suppliers, our delicious and honest catering will not only tantalise your taste buds but satisfy your conscience, knowing that all our food is ethical and organically grown. Whether you're hosting a sit-down dinner for 10 or need canapés for a 500-delegate conference, we offer catering solutions for a range of event types and can work with you to create the perfect menu and dishes. We also know delegate numbers can change at the last minute, so we allow you to share your exact quantities by 4pm the day before your event to ensure no catering is wasted.
Ethically sourced catering
With the help of corporate event catering specialists Eden Caterers, we have developed our seasonal menus to use only organic, fresh ingredients. Each one is prepared and procured using sustainable practices, including free-range meat and sustainably sourced fish.
Eden Caterers are dedicated to sustainability, with a three-star rating from Food Made Good and the Sustainable Restaurant Association. They have implemented a number of measures to minimise food waste and single-use plastic has been replaced with compostable and natural alternatives.
We have also partnered with Boulevard Events to offer bespoke fine dining packages with award-winning canapés and exceptional dishes. Fine dining at 15Hatfields is fairtrade, palm oil free and celebrates the finest seasonal and local ingredients.
Alongside food waste prevention measures, Boulevard Events share excess ingredients with grassroots group Streets Kitchen. They also offer their kitchen facilities for two nights a week at no charge to the Streets Kitchen team who prepare meals for the local community.
Our community of sustainable suppliers
Our other suppliers include carbon-neutral vineyard Yealands, plastic-free Teapigs tea, and Toast Ale made from surplus bread. We work with Mozzo coffee whose Community2Community Fund invests in local initiatives in coffee farming communities. We also serve delightful cakes from local Blackbird Bakery and Chegworth Valley juices, hand-selected and farm pressed in the Kent countryside.
Get in touch with our team to discuss your event catering needs.
Discover our menu options
Our variety of menu options can be tailored to enhance your event with catering to create a dining experience that will tantalise your delegates' tastebuds.
Choose from flavourful casual street food like barbacoa beef brisket tacos, canapé options such as Chalk Stream Farm Trout gravadlax crostini, or a refined dish like sugar roasted baby Heritage carrots, beetroot puree and spinach dauphinoise.
Our day vegan rate (DVR) offers a wide range of innovative alternatives for those who prefer plant-based options, and we can cater for all other dietary requirements for your delegates.
Plan personalised menus with our expert team of event organisers, tailoring dishes and ingredients to reduce food miles or measure your sustainability impact, depending on your environmental goals.
Discover our menu options below, or get in contact with our team to discuss personalised event catering.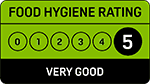 As the official venue of the Chartered Institute of Environmental Health (CIEH), 15Hatfields takes food safety and hygiene very seriously. All relevant staff at our venue have completed Level 2 Food Safety in Catering and Level 2 Food Allergen Awareness. These online courses are run by CIEH to assist food businesses in complying with government food safety guidance. You can trust in us with our FSA Food Hygiene Rating of 5.
Top